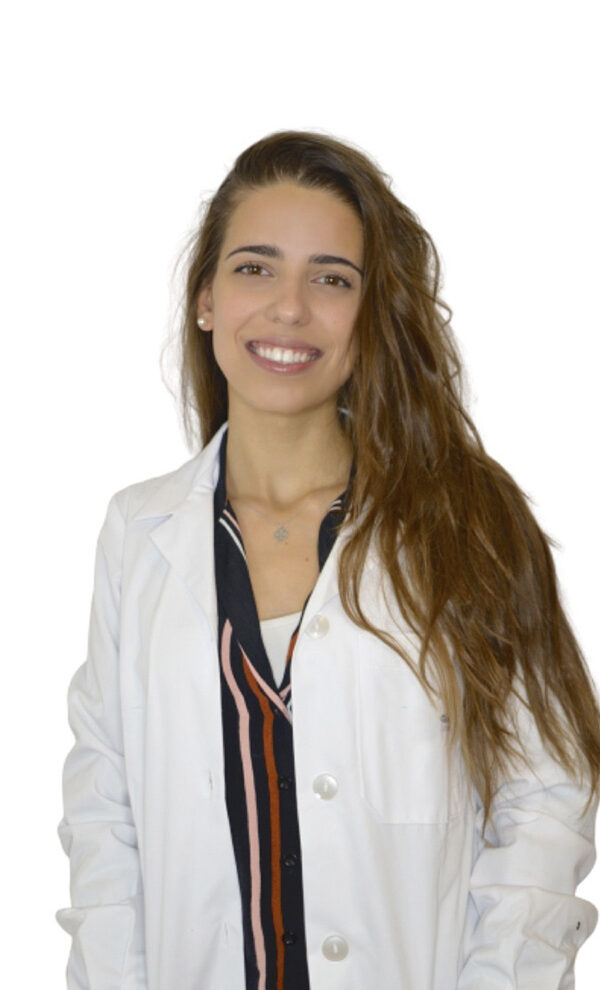 Bachelor in Nutrition Sciences from the Faculty of Nutrition and Food Sciences of the University of Porto (FCNAUP) and Masters in Sport Nutrition from Liverpool John Moores UniversityShe is a full member of the Order of Nutritionists (C.P. 3971N) and of the The Sport and Exercise Nutrition Register (SENr), an association that internationally certifies and recognizes specialists in Sports Nutrition.
She was a Nutritionist for Liverpool Football Club Women during the 2018/2019 season as part of her Master's degree, in addition to adding experience in the areas of Sports Nutrition, Clinical Nutrition (particularly Pediatric Nutrition and Pregnancy Nutrition), Community/Public Health and Scientific Research. She is currently in clinical practice in health and sports.
She is also internationally accredited in Anthropometry Level 1 by International Society for the Advancement of Kinanthropometry (ISAK), in Food Safety and Hygiene for Catering Level 2 and how Anti-Doping Advisor by UKAD.
Areas of interest:
Relative Energy Deficiency in Sport (RED-S), Nutrition in Women Athletes, Maternal and Child Nutrition and Young Athletes, Improving the Sports Performance, Gastrointestinal Health and Micronutrients.
Awards/Recognitions:
Completion with Distinction of MSc Sport Nutrition from Liverpool John Moores University.
Best video award for the project "The Mediterranean Diet" from the National Program for the Promotion of Healthy Eating (2014).
From the presented specialized training, highlights:
MSc Sport Nutrition (LJMU)
ISAK Level 1 Accredited Anthropometrist
UK Anti-Doping (UKAD) Accredited Advisor
Level 2 Food Safety and Hygiene For Catering
Research and Human Tissue Legislation Qualified
Initial Pedagogical Training Course for Trainers - Certificate of Pedagogical Skills (CCP)
Nutrition in Sports Course (FCNAUP)
Course on Food Allergy at School (FCNAUP)
Course on Food Allergy in Restaurants (FCNAUP)
Scientific Production:
Co-investigator in the master's project "Investigation into the role of vitamin D on insulin sensitivity, substrate utilization and aerobic exercise performance"
Principal Investigator in the graduation project "Is the iron status of adolescent artistic gymnasts a problem worthy of attention?"
Oral Communication "Is the iron status of adolescent artistic gymnasts a problem worthy of attention?" at the European College of Sport Science (ECSS) Congress in Dublin, Ireland (2018)
Oral Communication "Growth and puberty in adolescent artistic gymnasts. Is energy intake a question of concern?" at the 4th International Health Congress of IPLeiria in Leiria, Portugal (2018)
Collaboration in the recruitment and data collection stages of the public health project "National Food and Physical Activity Survey (IAN-AF)" (2017)
Participation in the "Trends in Salmonella serotypes and clones from traded food products in Portugal" and poster presentation of identical title at the University of Porto Youth Research Meeting (IJUP) in Porto, Portugal (2016).
Oral communication "Resistance to clinically relevant antibiotics in emerging Salmonella serotypes from food products in Portugal" at the International Congress on Nutrition and Food Safety (CINSA) in Coimbra, Portugal (2016).
Co-author of the articles:
"RED-S: What is this syndrome that is draining athletes?" published in Life DN of the Daily News, 2019. https://life.dn.pt/red-s-a-sindrome-que-afeta-as-funcoes-fisiologicas-dos-atletas/nutricao/354325/
"Creatine in injury recovery" published in blog from the Dragon Clinic Academy, 2019. https://www.academiaclinicadragao.com/o-papel-da-nutricao-na-recuperacao-da-lesao-creatina/
"Intermittent Fasting: Time for a Change chip?" published in the 3rd issue of Bwizer Magazine, 2018. https://www.bwizer.com/pt/bwizer_academy/jejum_intermitente_esta_na_hora_de_mudar_o_chip_por_antonio_pedro_mendes_e_rita_giro_bwizer_magazine.html
Others:
Guest lecturer at the Post-Graduation in "Sports Performance" at the European University
Scientific-pedagogical coordinator and lecturer of the course "Nutrition & Health in Athlete Women" at Academia Clínica Espregueira
Lecturer in the courses "Nutrition in Sports: From Theory to Cooking", "Nutrition in Football" and "Strength & Conditioning - Dare To Know More" at Academia Clínica Espregueira
Invited lecturer at the 1st Edition of the Post-Graduation in Sports Nutrition at CESPU
Invited speaker at the VII Nutrition and Food Meeting of the National Association of Nutrition Students
Invited speaker at the Ist Iberian Meeting of Preventive Medicine at ULS da Guarda
Invited speaker at the Sports Science Summit 2020 at the University of Trás-os-Montes e Alto-Douro
Invited speaker at the VIII AEICBAS Biomedical Congress
Invited speaker at the 2nd Edition of the Cycle of Sports Nutrition Lectures "NUTRIDay" by SUNIPorto
Invited speaker at the 30th Edition of the Nutrition Week - AE FCNAUP Scientific Congress
Invited speaker at the Meeting Nutrition & Sports of the Nutrition Sciences Group of the Students Association of Fernando Pessoa University
Invited speaker at the XXII Annual Congress of the Portuguese Association of Enteric and Parenteral Nutrition (APNEP)
Guest on episode #27 "RED-S & Disordered Eating in Endurance Athletes: A Nutritionist's Perspective" of the podcast "Fuel The Pedal" (EN) https://fuelthepedal.com/ftp-27-helena-trigueiro-rita-giro-red-s-disordered-eating-in-endurance-athletes-a-nutritionists-perspective/ in episode #3 "RED-S in Athletes" of the podcast "Papo Com Nutricionista" (BR/PT) https://www.youtube.com/watch?v=jF2i9YVayUQ&t=3790s and in episode #22 "Nutrition in Women Athletes" of the podcast "Em Banho Maria" (PT) https://open.spotify.com/episode/2zzzj0OxS7WAfZUczBD01H?si=pDpIwzLuQImWIpiJ8FEG3A